This is a meme hosted by @lostinastory. And it basically works by looking at the books on your Goodreads TBR and deciding whether you want to keep them or not. I've decided that I'm going to be doing this monthly as it's a fun way to clear out my TBR shelf. Some of these books have been on my TBR for years so it's really fun looking back and seeing what books I used to be interested in and how my reading tastes have changed.
What to do…
Go to your goodreads to-read shelf.
Order on ascending date added.

Take the first 5 (or 10 if you

'

re feeling adventurous) books. Of course if you do this weekly, you start where you left off the last time.

Read the synopses

 

of the books

Decide: keep it

 

or should it go?
---
The Night Circus by Erin Morgenstern
The circus arrives without warning. No announcements precede it. It is simply there, when yesterday it was not. The black sign, painted in white letters that hangs upon the gates, reads: Opens at Nightfalll Closes at Dawn As the sun disappears beyond the horizon, all over the tents small lights begin to flicker, as though the entirety of the circus is covered in particularly bright fireflies. When the tents are all aglow, sparkling against the night sky, the sign appears. Le Cirque des Reves The Circus of Dreams. Now the circus is open. Now you may enter.
I didn't even realise that this book had been on my TBR for so long. I still really want to read this book, it sounds like something I'll love and I've heard amazing things about it! But it's also one of those book that I never seem to be able to find in the library, so I'm never able to pick it up. But I will find it at some point!
Decision: Keeping!
---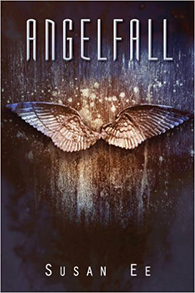 Angelfall by Susan Ee
It's been six weeks since angels of the apocalypse descended to demolish the world. Gangs rule the day while fear rules the night. When warrior angels fly away with a helpless little girl, her sister Penryn will do anything to get her back. Anything, including making a deal with an enemy angel. Traveling through a dark and twisted Northern California, they have only each other to rely on for survival. Together, they journey toward the angels' stronghold where she'll risk everything to rescue her sister and he'll put himself at the mercy of his greatest enemies for the chance to be made whole again.
The summary for this book does intrigue me and I've heard good things about this series but I can't see myself ever picking it up. I'm not a huge fan of dystopian stories or stories featuring angels anymore. So, I think this one is going to have to go.
Decision: Going
---
The Iron Trial by Holly Black & Cassandra Clare
Most kids would do anything to pass the Iron Trial. Not Callum Hunt. He wants to fail. All his life, Call has been warned by his father to stay away from magic. If he succeeds at the Iron Trial and is admitted into the Magisterium, he is sure it can only mean bad things for him. So he tries his best to do his worst – and fails at failing. Now the Magisterium awaits him. It's a place that's both sensational and sinister, with dark ties to his past and a twisty path to his future. The Iron Trial is just the beginning, for the biggest test is still to come…
I originally added this to my TBR because it's co-written by Cassandra Clare, who I love. But I'm not a huge fan middle grade stories so I don't think I'd enjoy this one all that much. I'm just going to stick to Cassandra Clare's books which are set in the Shadowhunter world.
Decision: Going
---
Legend by Marie Lu
What was once the western United States is now home to the Republic, a nation perpetually at war with its neighbors. Born into an elite family in one of the Republic's wealthiest districts, June is a prodigy being groomed for success. Born into the slums, Day is a wanted criminal. But his motives may not be as malicious as they seem. June and Day cross paths when June's brother, Metias, is murdered and Day becomes the prime suspect. Caught in a game of cat and mouse, Day is in a race for his family's survival, while June seeks to avenge Metias's death. But, the two soon uncover the truth of what has really brought them together, and the sinister lengths their country will go to keep its secrets.
Ok, I know I've said I'm not a fan of dystopia anymore, but this book might be an exception for me. I've been really loving Marie Lu's The Young Elites series and I think when I've finished that I'll probably want to read this series as well to find out if it's as good.
Decision: Keeping
---
Under the Never Sky by Veronica Rossi
Aria has lived her whole life in the protected dome of Reverie. Her entire world confined to its spaces, she's never thought to dream of what lies beyond its doors. So when her mother goes missing, Aria knows her chances of surviving in the outer wasteland long enough to find her are slim. Then Aria meets an outsider named Perry. He's searching for someone too. He's also wild – a savage – but might be her best hope at staying alive. If they can survive, they are each other's best hope for finding answers.
Another dystopian book! Which I'm also not interested in anymore… I've not really heard much about this book, especially recently (then again it is a few years old). But just from reading the summary I can tell where the plot of story is going and how it's going to end, so I don't really want to spend my time reading it.
Decision: Going
---
Do you agree with my decisions?