This is a meme hosted by @lostinastory. And basically works by looking at the books on your Goodreads TBR and deciding whether you want to keep them or not. This time I'm sorting through some older books from when I was just starting to get into YA.
What to do…
Go to your goodreads to-read shelf.
Order on ascending date added.

Take the first 5 (or 10 if you

'

re feeling adventurous) books. Of course if you do this weekly, you start where you left off the last time.

Read the synopses

 

of the books

Decide: keep it

 

or should it go?
---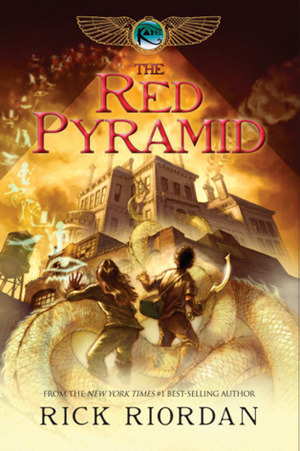 The Red Pyramid by Rick Riordan
Since their mother's death, Carter and Sadie have become near strangers. While Sadie has lived with her grandparents in London, her brother has traveled the world with their father, the brilliant Egyptologist, Dr. Julius Kane. One night, Dr. Kane brings the siblings together at the British Museum, where he hopes to set things right for his family. Instead, he unleashes the Egyptian god Set, who banishes him to oblivion and forces the children to flee for their lives. To stop him, the siblings embark on a dangerous quest that brings them ever closer to the truth about their family and their links to a secret order that has existed since the time of the pharaohs.
Starting off with another Rick Riordan book but, like I mentioned in my previous post, I'm not all that interested in his books at the moment. I know he's a great author but I've got way too much catching up to do. And I'm not interested in Egyptian Gods so I don't think I'll ever read this book.
Decision: Going
---
Vampire Academy by Richelle Mead
St. Vladimir s Academy isn't just any boarding school it s a hidden place where vampires are educated in the ways of magic and half-human teens train to protect them. Rose Hathaway is a Dhampir, a bodyguard for her best friend Lissa, a Moroi Vampire Princess. They've been on the run, but now theyre being dragged back to St. Vladimir's the very place where they re most in danger. Rose and Lissa become enmeshed in forbidden romance, the Academy s ruthless social scene, and unspeakable nighttime rituals. But they must be careful lest the Strigoi, the world s fiercest and most dangerous vampires, make Lissa one of them forever.
Even though I'm not really into vampires or paranormal books that much anymore, I think I might read this one someday. Most people seem to have enjoyed this series so I'm curious as to whether I will too.
Decision: Keeping
---
Beautiful Creatures by Kami Garcia & Margaret Stohl
Lena is unlike anyone the small Southern town of Gatlin has ever seen, and she's struggling to conceal her power, and a curse that has haunted her family for generations. But even in the forgotten South, a secret cannot stay hidden forever. Ethan, who has been counting the months until he can escape from Gatlin, is haunted by dreams of a beautiful girl he has never met. When Lena moves into the town's oldest and most infamous plantation, Ethan is drawn to her and determined to uncover the connection between them. In a town with no surprises, one secret could change everything
I'm not particularly interested in this book and it hasn't got the best reviews. I've heard the rest of the series is worse and, seeing as I've already seen the film, I don't think I'll waste my time with this one.
Decision: Going
---
A Great and Terrible Beauty by Libba Bray
It's 1895, and after the death of her mother, 16-year-old Gemma Doyle is shipped off from the life she knows in India to Spence, a proper boarding school in England. Lonely, guilt-ridden, and prone to visions of the future that have an uncomfortable habit of coming true, Gemma's reception there is a chilly one. To make things worse, she's being followed by a mysterious young Indian man, a man sent to watch her. But why? What will her entanglement with Spence's most powerful girls – and their foray into the spiritual world – lead to?
This is another book I'm not interested in anymore. I don't enjoy historical fiction that much and there are so many other books I want to read. So, I think I'll be getting rid of this, as I'm never going to read it.
Decision: Going
---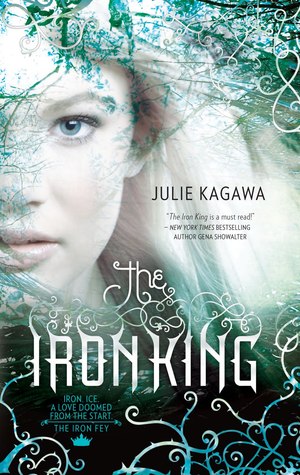 The Iron King by Julie Kagawa
Something has always felt slightly off in Meghan's life, she has never quite fit in at school or at home. When a dark stranger begins watching her from afar, and her prankster best friend becomes strangely protective of her, Meghan senses that everything she's known is about to change. But she could never have guessed the truth – that she is the daughter of a mythical faery king and is a pawn in a deadly war. Now Meghan will learn just how far she'll go to save someone she cares about and find love with a young prince who might rather see her dead than let her touch his icy heart.
Although the synopsis of this book does intrigue me, I don't think I'm going to enjoy this book. It hasn't got the best the reviews and I've read another of Julie Kagawa's books and I didn't really like that, so I'm not sure if I'll like this either.
Decision: Going
---
Do you agree with my decisions?